Transcend Into a Renewal of Life!
"If new ideas are to assume artistic forms, sensual, physical, spiritual and intellectual forces and abilities must all be present and act in concert."
Johannes Itten
Master at Bauhaus School of Art and Design
Wiemar, Germany
(1888 – 1967)

Master the Art of Self-Liberation!
Through the Ancient Wisdom of the East and the Art and Science of the West
Not an academic dissertation. Not an exposition of knowledge to impress you!
But simple application of practical wisdom to obtain results!

Wisdom that would make you wish you'd known long time ago




Artist, Educator, Speaker, the Art of Self-liberation Consultant






Growing beautiful flowers are easy to do,
when you cultivate the roots within the soil!


The moment you become aware of your own worth and discover that you are far beyond the one you thought you were, you stop deceiving yourself and others; and love, which is who you are, begins to find its universal expression within you.
____________________
We cannot deny the fact that stress, heartache, pain, suffering or disillusionment, which often results in variety of illnesses and emotional as well as material losses is a part of most people's lives regardless of their social status.
Although many forms of "solutions" or "remedies" are being offered with no avail - due to the actual underlying causes being erroneously addressed - the actual sources of human strife remain to be an unsolved mystery and hidden from the eyes of the casual observer.
We will tear down the curtain of mystery during this enlightening dinner / presentation for a close inspection and observation of scientific facts; a highly distilled visual illustration that will bring the mystery into full view and help you to remedy and prevent its re-occurrence by fully understanding the anatomy of its causation.
Wisdom that will make you wish you'd known long time ago.


"Sixty years ago I knew everything; now I know nothing; education is a progressive discovery of our own ignorance.
Will James Durant
(1885 - 1981)
American gentle philosopher, writer, historian, who endeavored to unify and humanize fragmented historical knowledge and vitalize it for modern application.
An overview of:
The Art of Self-Liberation
Reward yourself with the recovery of your imagination.
Plow into the depth of your creative genius.
Blossom with truth, float in joy.
Bask in being You!
The ancient wisdom of Eastern philosophy refined through the ingenuity of the arts and sciences of the West is the potion to awaken your hidden genius contrary to what you have been made to believe. Learn how to inspect and evaluate your environment as it is, to penetrate through the hidden mysteries that continue to stunt your imagination and crush your creative impulses.

The Secret of Self-Liberation:
Free imagination is the bedrock of creativity and it should be
cultivated as the basis of a blissful and productive life.


Imagination is the fertile ground for inspirations to germinate and take roots; a spring where new constructive ideas cascade down into every dimension of your life. It is the force behind the ambition that drives Man to create and perform in the direction of his goals and dreams. Discover the impediments that tarnish your imagination, keep you where you are and prevent you from creating the life you desire.
Most people don't realize that one of their intrinsic attribute as a spiritual being is their ability to CREATE! If life itself was to be created as a work of art, then everyone is an artist very much capable of creating and authoring their life. This is not a radical idea. It is more than radical. It is already happening in the lives of those who have removed at least the first source of their pain and suffering, which is the culprit responsible for blunting their creative and imaginative impulses.


Your Hopes and Dreams
Do not expect the answer to the following questions
to be what you already think they are.
What are the benefits of knowing who to trust?
What is the value of a focused, happy and motivated employee?
What are the benefits of an increase in your growth and productivity?
What are the pervasive blessings of a gratifying relationship?
What are the results of a life overwhelmed with strife?
What if you could touch one of your dreams?
What premium would you place on discovering the surreptitious nature of the elements that continue to clip your wings one feather at a time?
You were born with ingenuity.
You were born with goodness and trust.
You were born with ideals and dreams.
You were born with greatness.
You were born with wings.
You are not meant for crawling, so don't.
You have wings
Learn to use them and fly.
- Rumi

Creativity Reign Supreme!


When you cultivate and purify your imagination to a certain level of refinement, a deep phenomenon begins to blossom within your spirit; a sensation beyond
any physical pleasure you have ever known; a realization that causes you to begin to unveil the beauty of life as a new work of art.
What you will discover would be a peculiar form of consciousness that will awaken your dormant forces and abilities; a potentiality that can be unleashed in many different forms. You can unexpectedly come upon touching it and suddenly realize the difference between awareness and sleepwalking, captivity and freedom; a condition where your imagination is free to exude creative new ideas without the consequences you have suffered and endured in the past.
And when you come upon this conscious awareness, it will change your priorities, it will shift your paradigm, it will rekindle the vitality of your dampened spirit and the fire of your passion, propelling you forward; and you will never look back again!
We will explore the nature of this Freedom, look at the barriers and conditions that inhibit its attainment and how to sustain it once you achieve it.
"The greatest danger for most of us is not that our aim is too high and we miss it, but that it is too low and we reach it." - Michelangelo


Is Self-liberation for you?
In search of a solution to remedy your problems and heartaches or realizing just one of your unfulfilled dreams, you have tried many different things, haven't you? But what you've discovered so far is this:
You've felt good for a couple of days and learned how to articulate your problems a little better, but your condition has remained the same, isn't that right? And why is that? Isn't it because you have not yet found the actual causes of your problems? So, what are they?
No one can tell you that but you. You are the only one that by a proper and specific guidance need to inspect and discover exactly the root causes of these issues and how to get rid of them; because no one knows your circumstances better than you, yourself. Don't you agree?
We cannot light up the house from outside, no matter how much light we throw at it externally. And if anybody tries to analyze and tell you what's wrong with you and or your situation and what you should or shouldn't do about it, you can be certain that you are dealing with a dilettante under the mask of art and science.
If you are genuinely seeking a permanent solution and a sustainable level of self-confidence to implement a fearless approach to hack the roots of your problems, then the art of self-liberation is for you. If you desire a state of affairs free from the traps of the status quo, so that you can imagine freely and create effortlessly in the direction of your goals and dreams, then the art of self-liberation is for you.
This is the event for you, if you want to be able to live your life free of the veneers and superficially valuable or pleasing appearances or hidden manipulations that have served you very much like a mirage:
A series of illusory and deceptive short journeys with no destination!
You could actually have plenty of toys and material wealth and still feel not fulfilled and satisfied. You continue to reach for something new to satiate a deep longing in many different directions and yet don't seem to have a sustainable sense of inner bliss and fulfillment. Isn't that true? And why is it so? Because you have not yet plowed through the debris and the distortions that you have been molded with to discover that what you are really looking for through external sources is within you, eagerly waiting to lead you home to your most trusting best friend: Yourself!

"There is no better deliverance from the world of strife than through art."
- Johann Wolfgang von Goethe
(1749-1832)
Supreme genius of modern German literature
Art at its utmost proficiency settles the mind, soothes the heart, purifies the soul and result in the advancement and progress of humanity. And if you believe that humanity should express itself as a form of art, then everyone is an artist.
According to Hindu Philosophy
Karma is a mutual interpenetration of all things and events.
If you forget that whatever you are doing should be in the direction of enhancing the well-being of humanity - which includes you - your efforts will be expended against the natural flow and the purpose of Creation! It would only lead you to "unknowingly" constructing a very wide and invisible trap, one knot at a time, filled with unpredictable and un-explainable losses, failures, wasted potentials and a life much constrained continue to with unfulfilled dreams; invisible traps that blind your vision, inhibit your attainment and stop you from achieving your goals and dreams; impediments that continue to greet you throughout your life very brutally without mercy.
So, how do you change your Karma?
What are the actual causes that seem to be the perpetrators of bad Karma? While many millions of people in the developing countries are fighting for their basic human rights and education, suffering through wars, poverty and injustice, it appears that we don't have the same concerns in the West; particularly in America as the wealthiest leader of the free world.
However, a close inspection of our culture reveals that although wealth is the prelude to arts and culture, we haven't been very attentive to the significant role that arts and creativity play in injecting progress into society with ambitious pursuits.
Refined imagination is the birth place of inspiring ideas that gives our future a constructive form. Imagination is the home of our creative forces that surmounts any obstacle that stands in the way of our progress. Our liberation from the hidden sources of our barriers and entrapment is solely dependent upon a keen perception enabling us to imagine freely into the future and create our lives much similar to a fabulous work of art, where we choose every color, every brush stroke and where to put it to enhance, improve and beautify life. Art is a mirror that leads from the mundane world of existence into the splendid world of our imagination.
Free flowing imagination is the essence of a liberated soul that gives Man the luxury and the privilege of knowing how to revere liberty as well as wealth - a duality that must coexist - for self-liberation to express itself as the greatest form of art through our physical, sensual, spiritual and intellectual endeavors.

If your imagination is not free to flow and unfold with creativity to change your current condition for the better, whether at home or at work, to constantly giving birth to constructive new ideas, then what are the consequential costs of your crushed and blunted creative impulses that trap your imagination? And what are the prices of carrying these burdens with you to everywhere you go?
No one can tell you that but You! A close inspection of the difference between your current situation and your ideal and desired state of existence will give you - according to your current state of awareness - a low estimate of your untapped potentials and the obstacles in the way of achieving your goals and dreams.
Unless you understand the sources of your entrapment and blunted perception, you cannot strive toward achieving the liberation of your soul - a state where you can roam freely in the fields of your dreams and manifest what you can genuinely imagine.

The ancient and modern society molds and expects us to act within a given role to fit in and satisfy the perpetrated puppetry.
Say no to Puppet Masters! And yes to Self-liberation!

To reclaim your creativity we need to take a close look at the elements that has perpetrated the crushing of your creative impulses to reintroduce you to who you really are and say goodbye to the one you were told you are.
You can learn to defeat the image that has been foisted upon you. You can let go of the molds, stale traditions, impractical values and dogmas; the very status quo you have inherited that continues to stealthily navigate your life without your consent. You can come home to your true Self and stop looking, searching and perhaps even shopping for the next temporary fix. Everything you are looking for is already within You waiting to greet and embrace you with open arms.
"There is a candle in your heart, ready to be kindled.
There is a void in your soul, ready to be filled.
You feel it, don't you?" - Rumi
Freedom from the entrapments of life lies towrd art. Your artistic abilities are the best in you. When those abilities are eclipsed then the best of you is eclipsed.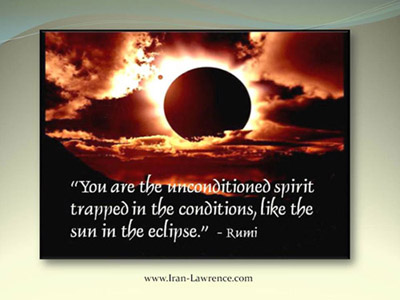 Persian Sufi mystic poet Rumi (1207-1273) was a wealthy nobleman, a genius theologian, and a brilliant sober scholar. His spiritual legacy has transcended national boundaries and ethnic division with admiration for the past eight centuries and remains as one of my most inspirational sources of influence. In the above poem he is reminding us of the splendor of our spirit being much similar to the magnificent glow of the sun; a brilliance greatly eclipsed by the disabling masks of our social conditioning.

Abstract Art Home

_____________________________________________________________________________________
Keywords: Especially designed for those who seek: Spiritual Education and Enlightenment, Self-Improvement, Personal Growth, Self Empowerment & Exploration, Consciousness, Conscious Living, Self-determinism, Prediction of Human Behavior, Successful Relationships, Depression & Anxiety, Science and Spirituality, Dating and Relationships, Life Transformation, True Wellbeing (a great state of health, happiness and prosperity), Improving Abilities, Being Resolved with Oneself, the Ultimate Wisdom, Spiritually Inclined Artists, Stress and Chronic Illnesses, Healing and Eliminating Stress, Depression Caused by an Emotional Loss, Sources of Suppression, Most Common Fear Suffered by Most People, Secret to Great Relationship, Artists and their barriers, Finding your own truth, How do you sanctify the heart, The best way to fight suppression, Finding your own truth, Importance of free imagination, what blunts and crushes the imagination, what kills creative impulses, How to cure depression, Cultivating the creative impulses, Measure your happiness, Realization, How do you achieve realization, How do you sustain realization, How to handle critical people, Anger management, People we should not have a close association with, The best way to help other people, The Law of Attraction, How to attract the right people, How to attract what you really want, Relationship issues and problems, how to pick the right mate, How to pick the right partner, The art of meditation, Meditation and imagination, Meditation and inspiration, Artists and creativity. Speaker series, Speaking, Speaking engagement, seminars, seminar presentation, Speaking presentation, consultants, personal consultant, Art, Abstract Art, Abstract art painter, Abstract Fine Art Paintings, Interior Design, Customized and commissioned art worldwide, marriage counseling, relationship counseling, Personal and professional counseling, Customized Limited Edition Giclee Prints, Site Specific residential and corporate art, Museum quality abstract art paintings, abstract art prints.